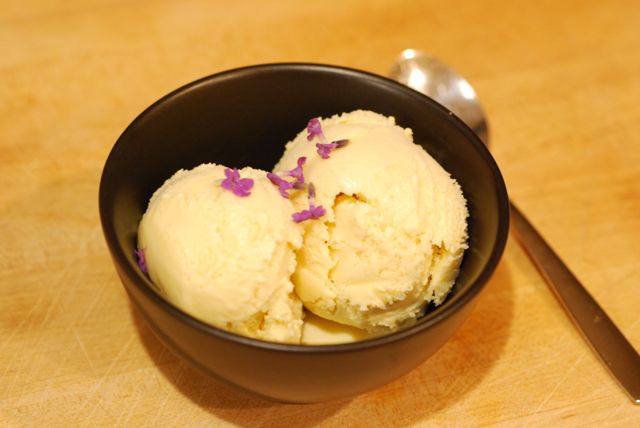 Kristin had this one time at the Walk For Aidan and went gaga over it so I had to try and make it for her. This is basically a slightly modified version of a Martha Stewart recipe that I found.
Ingredients:
2 cups whole milk
2 tablespoons dried lavender
1/3 cup honey
5 large egg yolks
1/4 cup sugar (or Xylitol)
1 cup heavy cream
Directions:
In a medium saucepan, combine milk, lavender, and honey. Bring to a gentle boil, cover, and remove from heat. Let steep for 5 minutes. Strain mixture, reserving milk and discarding lavender.
Combine egg yolks and sugar in the bowl of an electric mixer. Beat on medium-high speed until very thick and pale yellow, 3 to 5 minutes. Meanwhile, return milk to a medium saucepan, and bring to a simmer over medium-low heat.
Turn the mixer to low and slowly add half of the simmering milk to the eggs. Stir mixture into remaining milk, and cook over low heat, stirring constantly, until mixture is thick enough to coat the back of a wooden spoon.
Remove from heat, and immediately stir in cream. Strain mixture into a medium mixing bowl set in an ice-water bath (or put it in the refrigerator overnight), and let stand until chilled, stirring from time to time. Freeze in an ice-cream maker according to manufacturer's instructions. Store in an airtight plastic container up to 2 weeks.