2 cups cream cheese
3/4 cup cream
4 tablespoons xylitol
2 tablespoons vanilla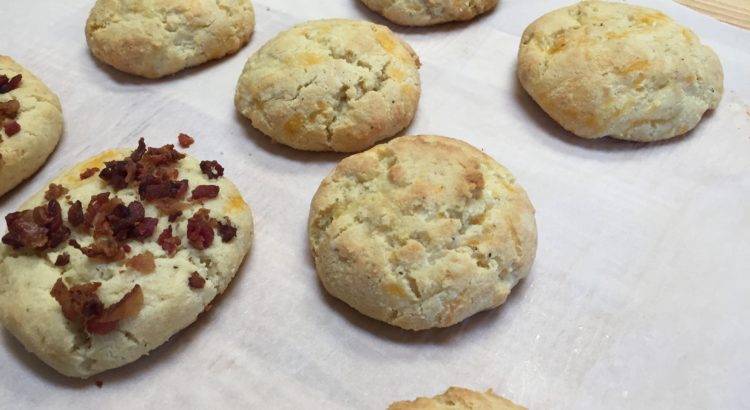 Ingredients
1 1/2 cup Almond Flour
1 1/2 tsp baking powder
1/4 tsp salt
1/4 tsp pepper
1/2 cup shredded cheese (cheddar or mozzarella)
1/4 cup Heavy Cream
3 tbsp diced cold butter
1 egg
Procedure:
Preheat oven to 350 degrees
Whisk together dry ingredients. (Almond flour, salt, pepper, and baking powder)
Mash your butter into the almond flour until it's crumbly sandy mix. (Use a pastry cutter if you have one or a rubber spatula).
Dig a well in the center and add the cream and egg.
Combine the almond flour into the wet ingredients being careful not to overwork it.
Fold in cheese.
Form dough into 4 big balls (for sandwiches, make 6 regular size for dinner biscuits) and lay on parchment paper.
Bake for 20 mins.
This recipe can make 6 medium size biscuits and the breakdown for that is
296 Calories; 27g Fat; 10g Protein; 7g Carbohydrate; 3g Dietary Fiber; 4 net carbs
4 large biscuits breakdown
443 Calories; 41g Fat; 14g Protein; 10g Carbohydrate; 5g Dietary Fiber; 5 net carbs
By Gourmet Girl Cooks Adapted from Gourmet Girl Cooks
For the brownies
Ingredients:
1 cup mashed, overripe bananas (approximately 3 medium bananas)
1/2 cup smooth almond butter (can sub for any smooth nut butter)
1/4 cup dark cocoa powder
Procedure:
Preheat the oven the 350 degrees, grease a small cake or loaf pan and set aside.In a small microwave-safe bowl or stovetop, melt your nut butter. In a large mixing bowl, add the banana, nut butter and dark cocoa powder and mix very well.
Pour the mixture into the greased pan and bake for around 20-25 minutes or until cooked through. Remove from the oven and allow to cool completely. Once cooled, at the frosting and refrigerate for at least 30 minutes to firm up.
For the cream cheese frosting
Ingredients:
Dairy free cream cheese, softened (can sub for any cream cheese)
2 T granulated sweetener of choice
1-2 T cocoa powder
Dairy free milk if needed
Procedure:
Add all ingredients in a mixing bowl and mix well.
Using a tablespoon, add dairy free milk until a VERY thick batter is formed.