Every year we get so many pears on the pear tree and of course, they're all ripe at once. So last year I tried to figure out something I could make will all these pears! Well, after some searching, I found this recipe and this one is pretty much the same.
Ingredients
4 cups peeled, cored and chopped pears
1 3/4 cups white sugar
1/4 cup brown sugar
3 cups sifted all-purpose flour
1 teaspoon salt
1 1/2 teaspoons baking soda
1 teaspoon ground nutmeg
2 teaspoon ground cinnamon
1 teaspoon ground cloves
4 egg whites
2/3 cup canola oil
1 cup chopped pecans
Directions:
Step 1
Chop your pears up into 1/2 inch cubes. Combine the pears and the sugar and let stand for an hour. The pears should be broken down pretty well at this point.
Step 2
Preheat oven to 325 degrees F (165 degrees C). Spray a 10 inch bundt pan with non-stick cooking spray.
Slightly beat the egg whites and combine them with the oil, chopped pecans and pear mixture.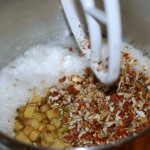 Step 3
Stir the flour, salt, baking soda, nutmeg, cinnamon and cloves. Stir in the pear mixture. Pour batter into the prepared bundt pan.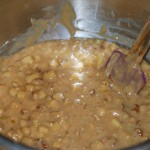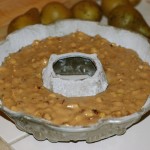 Step 4
Bake at 325 degrees F  for 1 hour and 10 minutes. Remove from oven and let cool on a wire rack for 10 minutes before removing form pan. After it cools, sift some powdered sugar over the top. Enjoy!