So Chase this year wanted a cake shaped like a giant s'more. This is what I came up with.
Graham Crackers
Ingredients
2 sticks of butter
1 cup brown sugar
1/2 cup dark corn syrup
Cream these together and then add
2 tsp baking soda
4 cups flour
4 tablespoons water
Directions
chill for 30 minutes before rolling out.
Roll out dough on parchment paper about 1/4 inch thick and cut at 12″ square.
Transfer each cracker to a cookie sheet and poke with a wooden skewer to give it that "graham cracker" look.
Bake each cracker for 30 minutes each at 350 degrees. You might need to play with this a bit. You just need to make sure it is firm enough that it doesn't start to bend when you set it on top of the cake. If it does, just throw it back in the over @350 for another 20 minutes or so.
I got the graham cracker recipe from here.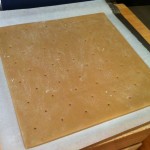 Chocolate
I decided for the piece of chocolate to not go with an actual giant piece of chocolate. I figured using cake would be much easier for the kids to eat so I made the Hershey's Perfect Chocolate Cake (the same one I used in the Lightning McQueen cake) and cover it with chocolate ganache so it looked like an actual piece of chocolate that was melting. I think that worked out pretty good!
Marshmallow
So for the marshmallow part, I made a 3-layer cake (recipe from here) and covered it in white fondant. Underneath the fondant though is Martha Stewart's 7-minute frosting. I used this frosting because it's essentially a cross between frosting and marshmallow anyway, so I thought it might make it taste more marshmallowy. The problem though is that the frosting is very airy and with the weight of the fondant, it got pretty compressed. I think if I were to do this again, I'd just use buttercream.
Ingredients (cake)
1 cup white sugar
1/2 cup butter
2 eggs
2 teaspoons vanilla extract
1 1/2 cups all-purpose flour
1 3/4 teaspoons baking powder
1/2 cup milk
Directions (cake)
Preheat oven to 350 degrees F (175 degrees C). Grease and flour a 9×9 inch pan or line a muffin pan with paper liners.
In a medium bowl, cream together the sugar and butter. Beat in the eggs, one at a time, then stir in the vanilla. Combine flour and baking powder, add to the creamed mixture and mix well. Finally stir in the milk until batter is smooth. Pour or spoon batter into the prepared pan.
Bake for 30 to 40 minutes in the preheated oven. For cupcakes, bake 20 to 25 minutes. Cake is done when it springs back to the touch.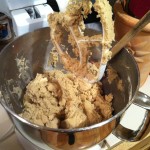 Ingredients (frosting)
1 1/2 cups sugar
2 tablespoons light corn syrup
6 large egg whites
1 teaspoon pure vanilla extract
Directions (frosting)
In the heatproof bowl of an electric mixer set over a saucepan of simmering water, combine sugar, corn syrup, 1/4 cup water, and egg whites. Cook over medium heat, stirring frequently, until mixture registers 160 degrees on an instant-read thermometer, about 2 minutes.
Attach bowl to a mixer fitted with the whisk attachment. Beat mixture on high speed until glossy and voluminous, about 5 minutes. Beat in vanilla. Use immediately.
So after I frosted the cake, I covered the whole thing in white fondant. It's a little tricky to get around the corners and stuff – the best advice I can give is to work very slow. It's pliable enough to do it without creases, you just need to take your time.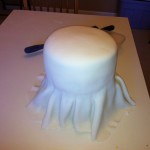 And of course, Chase wanted transformers fighting on top.